ESH Community is a fully residential safe and supported setting where residents are encouraged to explore and understand the underlying causes of their addictive behaviour, away from everyday distractions.
Professional and peer support helps to develop our resident's confidence, regain self esteem and self-belief to achieve an abstinent life with meaning and purpose, moving from dependence to independence.

The community works in groups through a 7 day week structured programme of recovery activities, all residents are required to actively participate.
We believe in an holistic approach to recovery which addresses mental, physical and spiritual health. Our programme is client focussed and resident's recovery plans are regularly reviewed and agreed to meet their different needs.
Our programme includes:-
Daily structured programme of education and awareness group activity sessions including; effects of drugs, alcohol or gambling, relapse prevention, looking at change, self awareness, understanding anxiety, stress, depression, health and nutrition
Regular one-to-one counselling with our experienced accredited addiction counsellors
Introduction to the 12 step programme of recovery and attendance at AA/NA and other fellowship meetings
Mindfulness and meditation
Daily therapeutic duties around the house, allotment and in the grounds
Gym, Yoga, swimming and sauna at the local leisure centre
Regular acupuncture
Walking and other outdoor activities
Residents are always escorted by staff members when they are off site at meetings or activities such as gym and walking sessions.
There is also a range of support sessions from external organisations to assist with housing, debt, employment and benefit issues.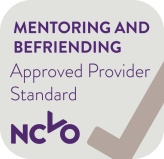 We have a fully accredited NCVO approved peer mentoring programme in place which we offer to all residents starting towards the end of their stay which enables us to provide the essential support during the critical period when residents leave. The structured 1-2-1 programme is provided by our experienced peer mentors and lasts for between 8-12 weeks.
There is a comprehensive aftercare programme for residents with regular follow-up and support groups at a separate location supported by staff and mentors, these groups run in parallel to the mentoring programme and are on-going.