In the second week of January 2018, I awoke in an ambulance completely dazed and confused.
I had relapsed again and had been drinking at work until suddenly I had blacked out. After a rather serious talk with my wife, I found myself out of our family home and staying at my father's place. I knew I couldn't continue like this and vowed to get my addiction sorted once and for all. I got in touch with Paul & Sue after finding the ESH Community website and they agreed to accept me into their rehabilitation program after a successful detox.
Upon visiting the premises, and meeting Paul, Sue and some of the staff, I had an overwhelming feeling that this was the place I could, and wanted to, start my recovery in. The groups, activities, ethos and the fact that the whole facility is peer led, appealed to me greatly.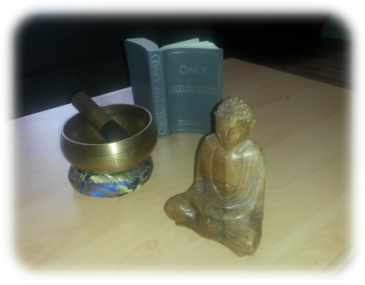 Since arriving here, everybody has been incredibly warm and welcoming and I was relieved to find that someone else had also enrolled on the program, and was beginning that same day. I instantly struck a rapport with all staff here, from the managers to the kitchen staff, and was made to feel both at home and at ease. The location itself is comfortably remote, allowing me to feel away from the 'hustle and bustle' and able to focus on my recovery.
The groups themselves, led by peer staff, are structured and informative, whilst being laid-back enough to remain on an interactive level, which makes it feel much more like a group dialogue than a lecture when in the room. There are also spiritual groups, containing different readings, meditations and acupuncture, which have been essential in my own personal recovery, as have the weekly one to one counselling sessions.
We often venture off-site to AA/NA meetings in the local area, and have even been taken to ones closer to our homes, which has been very helpful in establishing a connection for when we are out of rehab. We also go on shop runs, and have twice weekly sessions at the local gym/swimming pool.
On a more personal level, ESH has helped me achieve my biggest period of abstinence from alcohol/drugs to date, and it is due in no small part to the program here, the wonderful place, and the experience and warmth of the people who run it. I have never felt more at home away from home, thanks also to the comfortable rooms, and the freshly made food! There is always somebody here 24/7 on-hand to help, which is also a comfort, particularly at first when I was settling in.
In am currently in week 9 of my 12 week stay and I am already filled with confidence around how I will be when I am back home. I have learned so much here, not just in terms of how to compose myself on the 'outside' but about my own deep down feelings and emotions. Also thanks to ESH running weekly family sessions, my wife and parents are also aware of fundamental aspects of my addiction, and will therefore have a greater understanding of how I might feel when I return to everyday living.
I for one owe so much to ESH Community and couldn't speak highly enough of the rehab/staff. I don't want to think of what my life would be like right now without them. I've made great friends here too, with ALL peers, and I am proud and excited to be progressing in my recovery with them in the future.